Life is funny. After months of work and tedious planning, I was prepared to release the first of many singles for my upcoming album. The track was recorded, mixed, mastered, the art was complete, emails were being sent—everything was in order and moving in the right direction.
The week before the announcement, though, it turns out a hurricane is pushing its way toward me.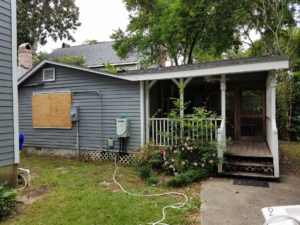 Great.
Besides the fact that it's, well, a hurricane and it's dangerous, I'm going to have to delay the release because the announcement will be buried by talk of the storm.
So as you see in the picture I boarded up my house and started to prepare. I pushed the release out of my mind.
Once everything was ready and I was prepared to take on the storm I realized: what better moment to announce the song than right now?
Why?
I mean, the song is called "Drift Away."
It's like life was saying, "Cool song bro time to live it."
Anyway, thankfully I'm not going to receive the worst of the storm. It looks like Charleston will receive some tropical storm to low hurricane winds, but nothing too severe.
I look forward to sharing the track with everyone!
Stay tuned and stay safe.